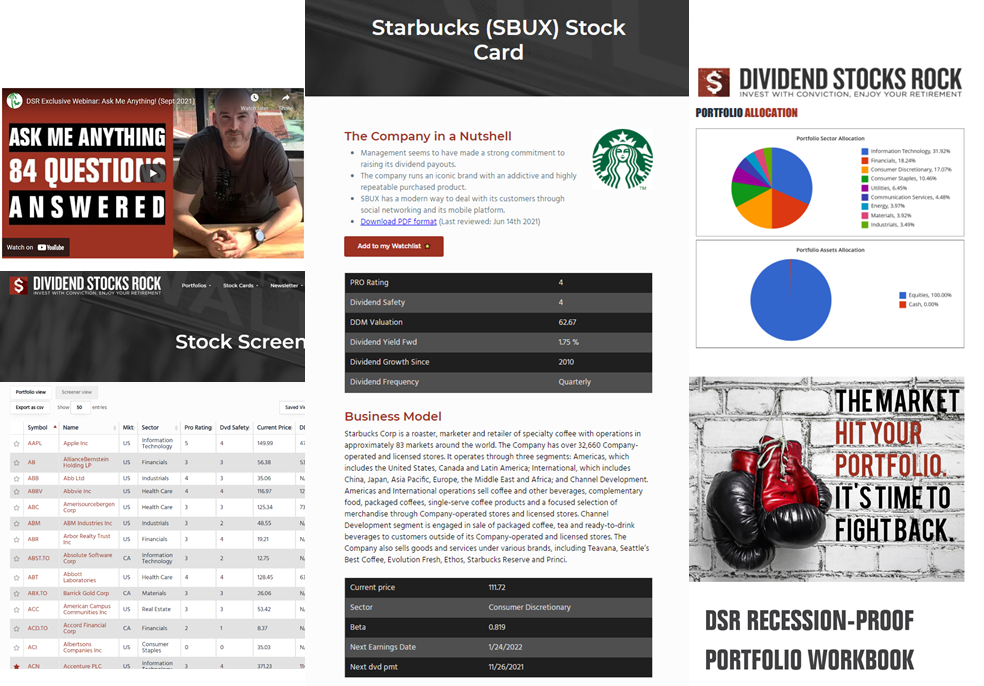 As a DSR member, you have access to a handful of exclusive resources that will guide you through your investment process. That content will ease your stock analysis, provide you with stock ideas and solid investment strategies.
With DSR, you make your own decisions, but you have a team by your side helping you remain confident through all times.
Newsletter
The DSR Premium newsletter is delivered to your email box every Friday morning. Our newsletter is also our communication tool to make you aware of all buy and sell decisions we apply to our portfolios. We publish a quarterly review of our performances along with finishing each year with a special edition of the Best Dividend Stocks to hold for the New Year to come.
In our complete archive, you can read about our previous trades and investing strategies.
Mike's Buy List
As the market evolves constantly, we are confident in our ability to find incremental stock investment opportunities. Each time we select a new security to buy, we must remove an existing position from the list. Our goal is to provide you with the top 10 picks for both the US and CDN markets.
The Mike's Buy List is issued through our newsletter on the first Friday of each month.
DSR Fundamentals and Portfolio Workbook
This section allows you to easily retrieve our "must-reads" newsletter editions. You will find here the fundamentals of the DSR investing strategy as well as the newsletter issues members liked the most.
It also includes our special edition of the Best Dividend Stocks to hold for the New Year as well as our popular Recession-Proof Portfolio Workbook.
Download the Portfolio Workbook
Glossary & Terms
Dividend growth investing comes with its own jargon. On the site and in every newsletter, we use several financial terms that sometimes sound like secret codes! We created this glossary to help your understanding or to refresh your memory.
Videos
This is where you can view our previous webinars or videos. About 10 times a year, we do exclusive live webinars for DSR members. While you will get a better experience with the live sessions, we thought it would be great if you could watch a few past presentations. We also put videos related to DSR tools or our investing strategy.
Not a member yet? Get Started
PREFERRED OPTION
DSR PRO
$399/year
9 DSR Portfolios w/ Trade Alerts
Dividend Safety Score
425+ Stock Cards with Ratings
DSR Weekly Newsletter
Stock Report on Demand
Customized Quarterly Report
Your Holdings Ranked
Sector Allocation Analysis
Exclusive buy & sell list
DSR Yearly
$199/year
9 DSR Portfolios w/ Trade Alerts
Dividend Safety Score
425+ Stock Cards with Ratings
DSR Weekly Newsletter
25% Rebate on the monthly subscription
DSR Monthly
$22/month
9 DSR Portfolios w/ Trade Alerts
Dividend Safety Score
425+ Stock Cards with Ratings
DSR Weekly Newsletter