Your DSR PRO yearly plan for $399 is just around the corner. Click below and fill out the form to start your subscription!
$399 CAD/Year
Don't Get Stuck Not Knowing How to Manage Your Portfolio
I bet you are having a hard time keeping track of all the information about your stocks. Between market news, volatility, and quarterly earnings, it's easy to get swamped by a tsunami of papers to read.
How can you make good decisions when you are overwhelmed? This often translates into difficulty buying or selling at the right time. What if DSR tells you where to look? Let us track companies in your portfolio for you!
DSR PRO is a customized quarterly report tracking each company's earnings. Receive a portfolio summary along with crucial information about your holdings. You tell us what to follow and we keep you in the loop. I've attached an example of what the report looks like (keep in mind it's an example, numbers don't add-up).
Your Subscription Includes
DSR PRO is the ultimate investor package. On top of your quarterly PRO reports, you have unlimited access to all Dividend Stocks Rock features.  It's an "all-inclusive" service done for you. Once you complete your payment, you will be redirected to the member's area where you will discover a whole new world for investors.
Customized Quarterly Portfolio Report: Track each of your company's earnings in no time. You will never miss the news that will make you lose money anymore.
Portfolio Models: Rethink your portfolio using 1 of our 9 US or CAD models. Each one comes with its own booklet and is updated quarterly. Stop overthinking by having a strong sector allocation.
Stock Cards: Buy the right assets and pick among the best stocks only with our 425+ stock reports. Focus on quality over quantity to build your portfolio with conviction.
The most powerful dividend Stock Screener: Search through ~1,100 dividend stocks and find the best ones according to your criterion.
Newsletter: Stay the course and grow in confidence with our weekly newsletter. We cover everything you need to know and provide you with clever intel including buys and sells!
Exclusive Webinars and Videos: Focus on what matters and ask all your questions! Benefit from the power of a 2,900 investors community.
Private Discord Channel: Come and share your ideas, discuss market news, and exchange investment tips with DSR PRO investors!
Risk-free Investment: Try DSR for 60 days and get your money back if it's not working for you.
Best Deal: Your price will never increase once you become a member.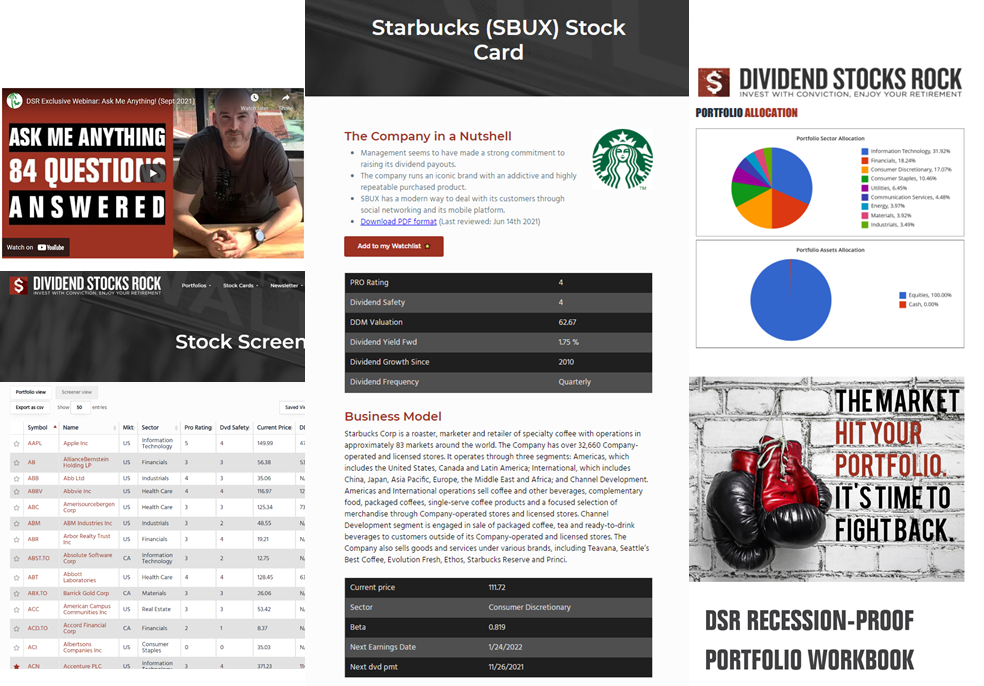 What Subscribers Say About DSR PRO
"I was impressed by all the work you must have done to compile all the information. I think it is precise, concise and will give me a first and quick orientation and tell me if further research might be needed."– Andree.

"What I like about the DSR PRO report is the format and all the information is well laid out. I really like the link to the "press release" saves me from searching the report that you were reading and the direct link to DSR stock card."– Solange.

"Things I liked- short concise summary, personalized list. I liked what you included in the report (price, yield, YTD, Non -GAAP EPS, Revenue, Dividend)- and trends up or down.I liked CEO and your summary. The link to the DSR stock card is helpful as well."– Vlad.
Frequently Asked Questions
"How will DSR PRO improve my investment returns?"Ah! You almost got me here! We can't guarantee any returns. But what we can guarantee is that we will keep you informed with actionable intel on each of your holdings. The summary pages tell you which stock requires your immediate attention. The Pro rating and Dividend Safety Score will give you additional information. This is how you will not miss important news affecting your portfolio anymore.
"How will DSR PRO help me managing my portfolio?"
DSR PRO has been designed to improve your efficiency as an investor. You will have a complete overview of your portfolio with our asset allocation graphs. Our Pro Rating and Dividend Safety Score will guide your investing decision. We highlight the best of the breeds and the black sheep in your portfolios in the summary pages. It will takes you minutes to identify which stock to buy or to sell. In 2018, companies like GE, Owen & Minors (OMI), Buckeye Partners (BPL) were all rated as "sell" or "screaming sell" before they cut their dividend.
"Can I follow stocks I don't own? Can I build a watch list?"
Yes! DSR PRO tracks both your portfolio holdings and your watch list. Therefore, you can have a quarterly report on stocks you want to add but wait for the right moment pull the trigger. It is the ultimate way to manage your watch list.
"What are the other features in DSR PRO?"
DSR PRO keeps evolving (e.g. adding new features). PRO members were the first to receive our PRO ranking and dividend safety score. They also receive the top 10 US and top 10 Canadian stocks across the 1,100+ companies we follow quarterly. This will become your buy list in no time!
"Is there a time limit to subscribe to DSR PRO?"
There is no time limit to subscribe to DSR PRO. However, the timing you receive your first report may vary. Reports are sent in line with the end of each earnings seasons.
"When reports are sent?"
As a DSR PRO member, you will receive 4 reports per year. They are usually sent before April 1st, July 1st, October 1st and during the first week of January. You will receive an email confirming when to expect your first report upon signing-up.
"Will my price increase next year?"
No. This is an evolving service where we add new features on a quarterly basis. As we add features, our price will increase. However, once you register with us, you enjoy your original price forever. Therefore, your price will never increase.
"How  do I send you my portfolio?"
Once you complete your payment, you will be redirected to create your username and password. This will grant you a full access to all DSR features. 
Within 48 hours, you will receive a simple form to complete (click here to see the example). If you are having problems with the payment form, please reply to this email.You must keep your regular membership to DSR active to receive your PRO report.
"How/when can I update my holdings?"
You have access to the above-mentioned form 24/7 and it can be updated whenever you want. We use a Google sheet to track all your positions (no personal information included). Therefore, we see what you see. There is no need to send an email to notify us. Each quarter, you will receive an email with a "closing date". After this date, you will be able to update your holdings, but your report will reflect what is on file on the closing date.
"Do you only cover the US market?"
We cover both US and Canadian markets and many PRO members ask for stocks on both markets. We cover dividend paying stocks that are traded on major US markets and the TSX. If you have ADRs, please send us an email to discuss.
"Can I pay in Canadian dollar?"
Yes, you can. Our DSR PRO subscription page offers the option to pay in both currencies. Both PRO subscriptions give you the same access. Therefore, you pay in the currency of your choice, but you have access to everything in PRO.
"How many stocks do you cover?"
We have an impressive capacity of covering over 1,000 stocks (yeah, we rock). All DSR PRO members can ask for up to 40 stocks to be included in the report. If you need more, please contact us and we will discuss how to accommodate you. We can offer to track up to 75 stocks per account for additional charges.
"What if I have ETFs in my portfolio?"
We don't track ETFs as they don't produce quarterly earnings. However, if you want to include them in your portfolio summary, you can definitely enter your position. Therefore, you will have a complete asset allocation graph. ETFs will not count in your 40 stocks.
"What if I have many portfolios?"
We do not offer multiple portfolio tracking yet. For now, you can combine all your holdings in a single report. However, this doesn't mean we will not offer it in the future. While we will continue to improve our DSR PRO reports by adding more features, and you will continue to benefit from the lowest price possible.
"How to join DSR PRO?"
$399 CAD/Year