Basic Materials Dividend Stocks in a Nutshell
Basic Materials companies were crushed in 2008, but they are back to full strength now.
As opposed to many sectors, Basic Materials usually benefit from rising interest rates.
Canadian remains your best bet if you're a dividend growth investor.
Here's the Basic Materials dividend stocks list.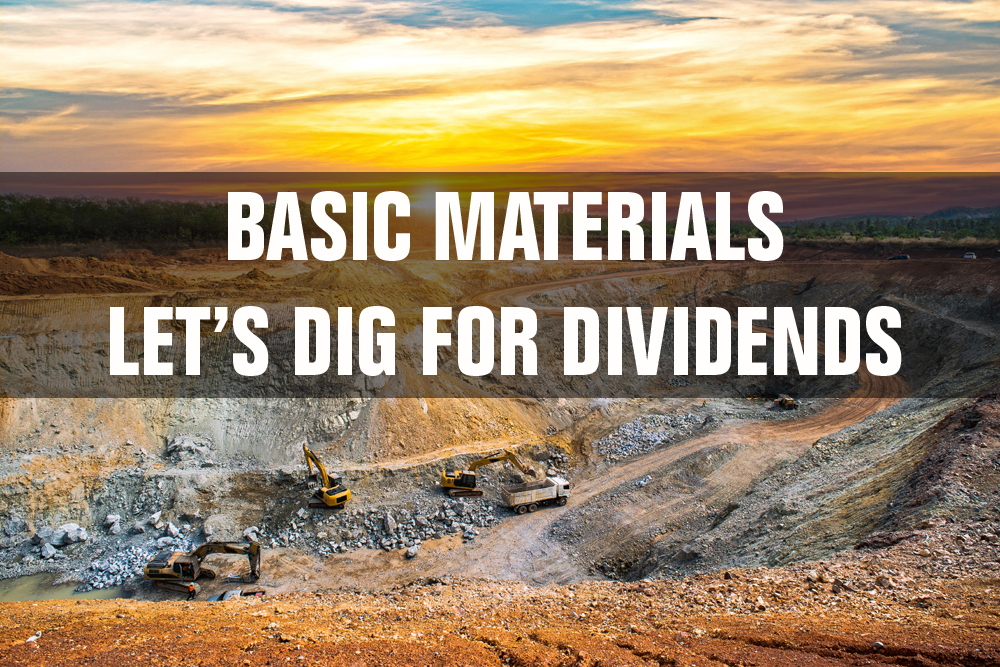 The basic materials sector is relatively small when you consider solely dividend paying companies. This is explained by the highly cyclical and volatile nature of the sector. The price of many commodities fluctuates a great deal, and it makes it very difficult for management to plan steady and increasing dividend payouts.
On top of that, exploiting resources require huge amounts of capital, and are mostly long-term projects. Therefore, most capital is used to fund additional projects, pay down debts and ensure the company's sustainability during challenging periods. Nonetheless, it doesn't mean you can't find a good dividend payer to diversify your portfolio from this sector.
This article explores this sector, defines how it can boost the yield in your portfolio, and provides you with a complete dividend stock lists including comprehensive metrics.
The Basic Materials Sector Explained
Most companies are continuously looking for more projects to expand their production at lower costs while the demand market varies according to various sectors. In the 2000's, basic material reached their climax as emerging markets were eating up all resources. This opened the door to massive expansion projects. Unfortunately, those kind of investing cycles often leads to overproduction periods once the demand slows down. The basic materials include the following list of sub-industries:
Chemicals
Construction Materials
Containers & Packaging
Metals & Mining
Paper & Forest Products
As you can see, this is not exactly "dividend growth materials" industries.
What Basic Materials Stocks Can Do For Dividend Investors?
You obviously can't build your portfolio solely on basic materials, but if you are looking for additional growth potential, you might find it here. There are some interesting industries such as chemicals and agricultural inputs providing solid business models. To build this list, we only considered the best dividend payers with a history of at least 5 years of dividend growth. While this methodology cut lots of poor dividend investing choices, it also keeps out a great company that was recently formed in 2018: Nutrien (NTR / NTR.TO).
Dividend investors must be prepared to suffer from dividend cuts in this sector. As is the case with the energy sector, both business models are highly dependent on the base price of their respective  commodity. When the economy booms and demand for commodities raise the prices, several companies will show astronomic growth and become overly generous with their dividend policy. This is why one must be careful to not load their portfolio with dividend paying basic materials companies. Use this sector with moderation.
Basic Materials Dividend Stocks List
Below you will find the Basic Materials Dividend Stock list. We've published a short version as a table on this page, but you can download the full version including several metrics right here:
| Symbol | Name | Yield | Rev 5yr | EPS 5yr | Div 5yr |
| --- | --- | --- | --- | --- | --- |
| ADN.TO | Acadian Timber Corp | 4.79% | 2.49% | 8.10% | 5.92% |
| APOG | Apogee Enterprises Inc | 1.53% | 13.62% | 32.73% | 9.91% |
| EMN | Eastman Chemical Co | 2.67% | 3.34% | 21.96% | 14.12% |
| IFF | International Flavors & Fragrances Inc | 2.04% | 3.79% | 4.45% | 15.40% |
| MDU | MDU Resources Group Inc | 3.11% | 1.74% | 20.76% | 2.80% |
| MEOH | Methanex Corp | 1.66% | 3.78% | 10.98% | 10.14% |
| NP | Neenah Inc | 2.04% | 3.91% | 12.26% | 25.26% |
| NUE | Nucor Corp | 2.58% | 0.83% | 20.03% | 0.67% |
| OLN | Olin Corp | 3.42% | 23.47% | 4.94% | 0.00% |
| PFB.TO | PFB Corp | 3.59% | 5.16% | 55.80% | 3.86% |
| POL | PolyOne Corp | 1.85% | 2.46% | 29.31% | 23.73% |
| PPG | PPG Industries Inc | 1.86% | 3.06% | 14.29% | 7.76% |
| RPM | RPM International Inc | 2.18% | 5.46% | 22.48% | 7.20% |
| RS | Reliance Steel & Aluminum Co | 2.37% | 2.86% | 9.00% | 17.61% |
| STLD | Steel Dynamics Inc | 1.78% | 5.52% | 34.82% | 9.16% |
| SXP.TO | Supremex Inc | 7.47% | 6.31% | 26.98% | 15.34% |
| TX | Ternium SA | 3.54% | 2.42% | 43.31% | 5.92% |
| WOR | Worthington Industries Inc | 2.03% | 6.52% | 14.31% | 16.91% |
| WY | Weyerhaeuser Co | 4.53% | 3.74% | 16.77% | 15.05% |
This table is updated once a year, but we have an updated stocks list with additional metrics for you to download:
Here are the metrics I've used to build the Basic Materials list:
Dividend yield between 1.5% and 10% (I want stocks that pay dividend)
5-year revenue growth positive (I want growing businesses in my portfolio)
5-year normalized diluted EPS growth positive (growing earnings leads to more dividend growth)
5-year dividend growth positive (I want management committed to make me richer)
3-year dividend growth positive (management must not sleep on the job)
Payout ratio under 100% (I want those dividends to keep coming)
The Basic Materials Dividend Stocks list is being updated on a quarterly basis.
Basic Materials Sector Special Characteristics
In addition to their cyclical nature, most basic materials require important amounts of capital to operate. This leaves little room for dividend growth, particularly during economic downturns. This is also why those companies are likely to cut their dividend temporarily to assist the business in weathering challenging times. Management's goal is not to fill shareholders' pockets with distributions, but rather to improve their production abilities and lower their costs of operations.
Basic Materials Dividend Stocks of Interest
At Dividend Stocks Rock, we do not have many basic materials in our portfolios due to their poor dividend growth potential. However, here's a short list of companies that are interesting buys according to our current research:
DowDupont (DWDP)
DowDuPont is the result of the merger of Dow and DuPont into a behemoth with over $80 billion in sales. The company operates in three global divisions: Agriculture, Materials Science and Specialty Products. The company, which combines the complementary portfolios, resources and capabilities of Dow and DuPont, intends to separate into three independent publicly traded companies by June 2019.
Albemarle (ALB)
Founded in 1887, Albemarle is a leading global producer of catalyst solutions and performance chemicals. Its products are used as additives to, or intermediates for, a wide range of products manufactured by pharmaceutical companies, cleaning product manufacturers, water treatment companies, agricultural companies, electronics goods manufacturers, refineries, and paper and photographic companies. After the acquisition of Rockwood in 2015, ALB became the largest lithium producer in the world.
Nutrien (NTR or NTR.TO)
Nutrien is the result of a merger of equals between Agrium, the largest Canadian global retailer and distributor of crop inputs and Potash, one of the world largest potash producers. Nutrien is a provider of crop nutrients, inputs and services. The company produces and sells potash, nitrogen and phosphate products for agricultural, industrial and feed customers. The company's main focus is on potash sales.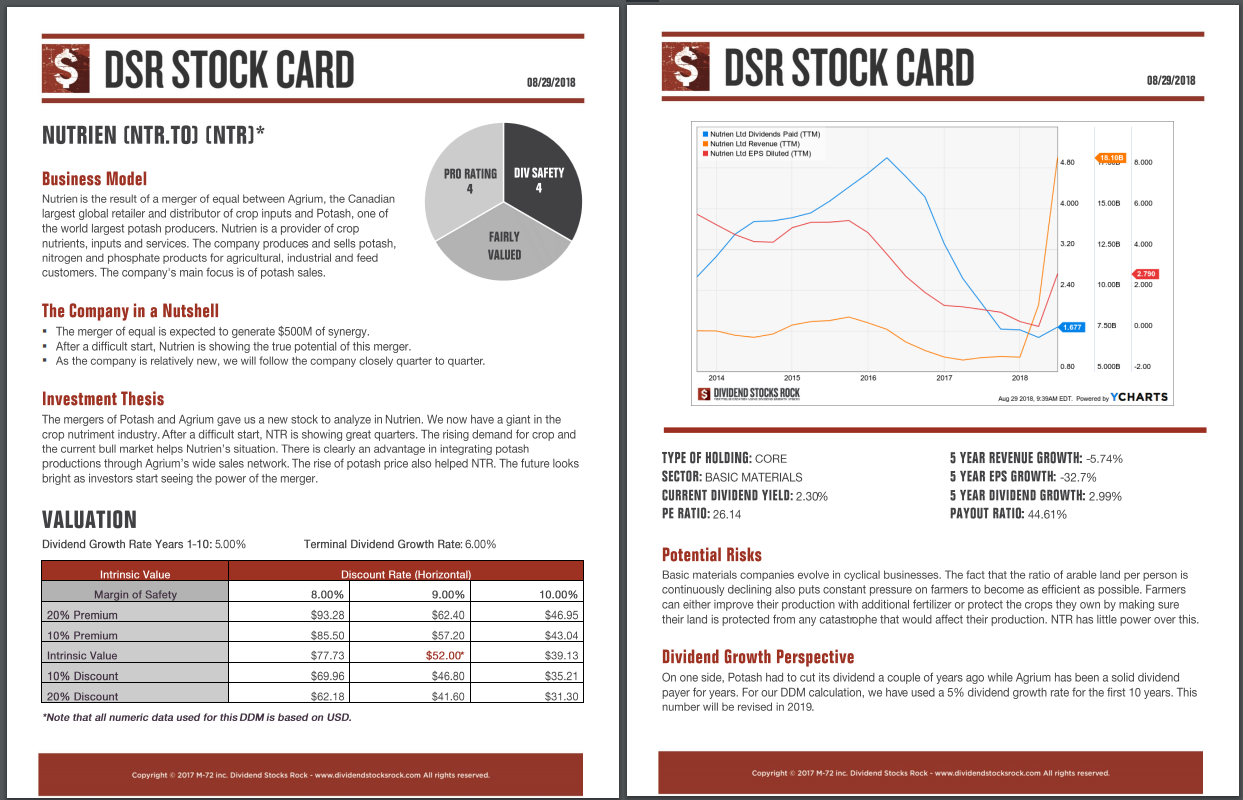 *Stock cards are updated twice a year, this is an example that is not being updated
Other DSR Dividend Stocks Lists
If you liked the Basic Materials dividend stocks list, but you are looking for additional sectors, you can register to our free newsletter and receive exclusive access to all our sector dividend stock lists. For each industry, we cover both U.S. and Canadian dividend stocks.