The second step of your investing journey through DSR should be to screen through our Rock Solid Ranking in the search of your next potential purchase.  Companies appearing in our ranking are either closely followed by our team or suggested by other members like you. You will also find all companies included in our DSR portfolios.
We rank each company according to their potential upside. Twice a year, we run a dividend discount model (DDM) calculation to complete our analysis of strong dividend growth business. Once a month, we update the current stock price value and calculate the potential upside (+) or downside (-) and publish it on the Rock Solid Ranking.
This list is meant to be a tool to quickly identify buy opportunities. As each company have been handpicked according to our 7 dividend investing principles, the valuation model gives the final touch to select the right dividend paying shares for your portfolio. Here's an example of what's inside DSR: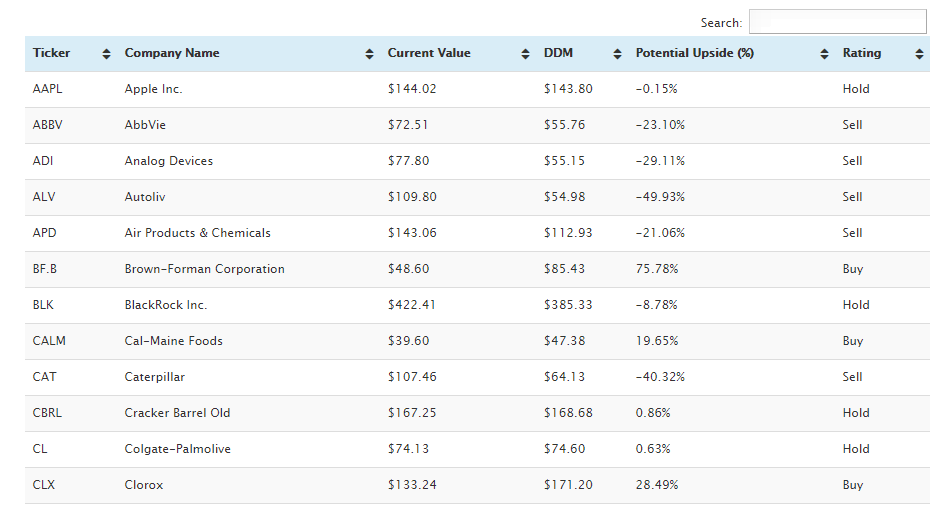 The chart above is for example purpose only and is not being updated
Pick Undervalued Stocks in a Minute
As our Rock Solid Ranking is based on handpicked companies, you have the opportunity to cherry pick from the best basket already. This tool has been created to facilitate your investment decision by giving you a clear direction. Register now and get access to over 100 filtered stocks and their potential upside.
6 months Investor Package
$97 / 6 months
15% Rebate on the monthly subscription
15 DSR Portfolios w/ Trade Alerts
Stock Ranking with Valuation
300+ Stock Cards
DSR Premium Newsletter
Stock Report on Demand
PREFERRED OPTION
Long Term Investor Package
$177/year
23% Rebate on the monthly subscription
15 DSR Portfolios w/ Trade Alerts
Stock Ranking with Valuation
300+ Stock Cards
DSR Premium Newsletter
Stock Report on Demand
Monthly Package
$19/month
Regular Pricing
15 DSR Portfolios w/ Trade Alerts
Stock Ranking with Valuation
300+ Stock Cards
DSR Premium Newsletter