Industrials Dividend Stocks in a Nutshell
Industrial businesses are cyclical, offering great buy opportunities from time to time.
You can see industrials as slow and stable companies.
There are several long-time dividend growers among this sector.
Here's the Industrials dividend stocks list.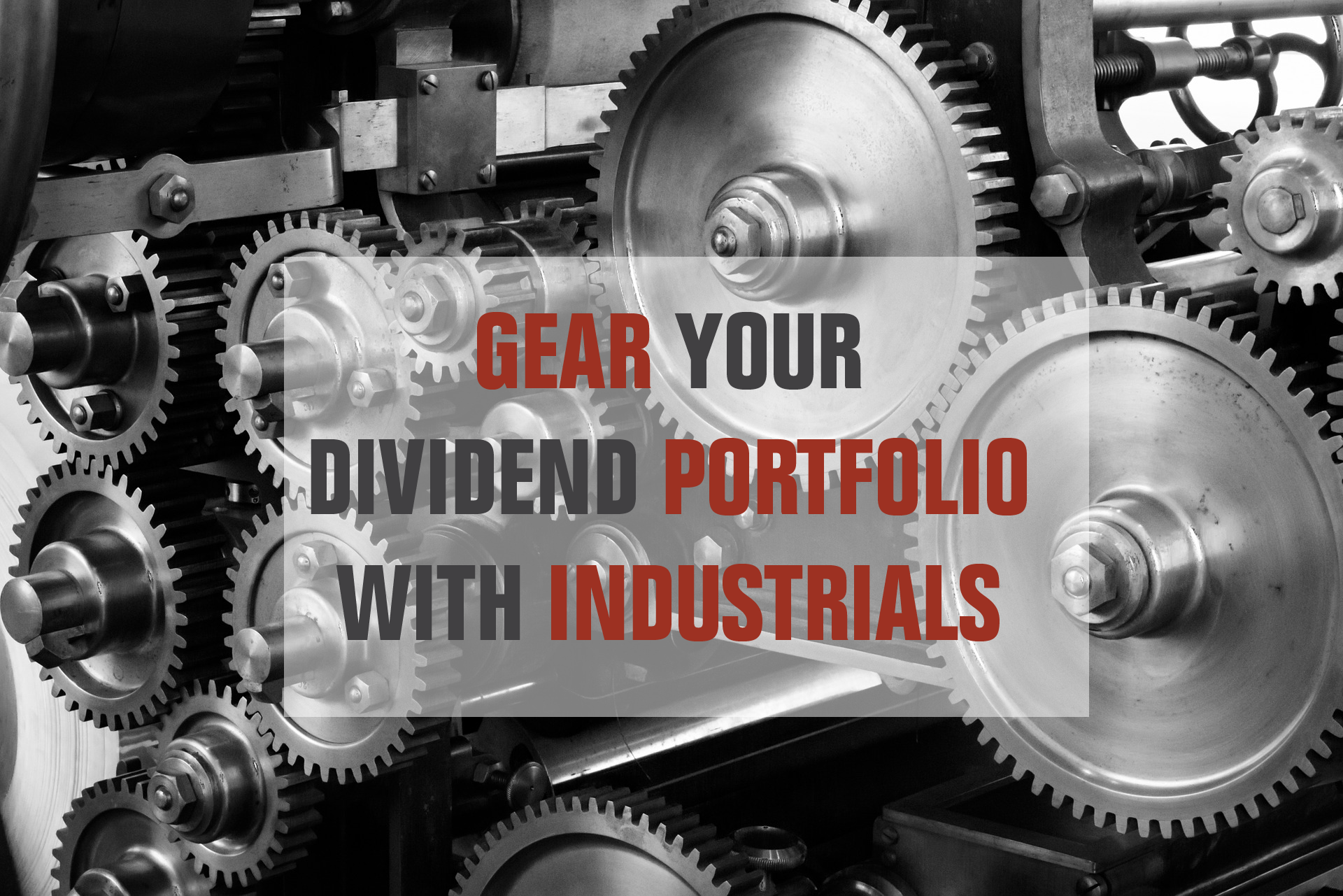 I often have the feeling we forget about industrials. There is nothing sexy about them. There is minimal stimulus to create hype on the stock market. Even worse, this sector is not seen as a source for high yields. Still, the fact many companies operate through cycles, there are always a few industrials for sale.
As industrials are often forgotten, there are always a few hidden gems to pick from. The best part is that once you have purchased some, you can easily forget them in your portfolio and may wait a few years before you take a second look at them. Those companies are often too big and too strong in their field to be threatened by another competitor. They are the opposite of the tech sector.
This article explores this sector, defines how it can boost the yield in your portfolio, and provide you with a complete dividend stock lists including comprehensive metrics.
The Industrials Sector Explained
Many industrial companies are 50+ years old. This is probably one of the sectors when you can list many companies that have survived through a whole century. Due to their long-time existence, they have built solid core businesses and impressive brand recognition. Those who have survived the passage of time and found ways to evolve often make solid dividend payers.
Industrials tend to allow for important budget items called research & development (R&D) and acquisitions. This is how they can protect their edge against competitors. A company like 3M Co (MMM) doesn't hesitate to spend a few billion each year in both R&D and acquisitions.
If you are looking to invest in industrials, you have a wide array of sub-sectors to choose from. The industrials covers a variety of business fields that are totally independent from each other. Here's a list of the industrials fields:
Aerospace & Defense
Airlines
Airports & Air Services
Business Equipment
Business Services
Conglomerates
Diversified Industrials
Engineering & Construction
Farm & Construction Equipment
Industrial Distribution
Integrated Shipping & Logistics
Infrastructure Operations
Metal Fabrication
Pollution & Treatment Controls
Railroads
Rental & Leasing Services
Security & Protection Services
Shipping & Ports
Staffing & Outsourcing Services
Tools & Accessories
Truck Manufacturing
Trucking
Waste Management
What Industrials Stocks Can Do For Dividend Investors?
Since many industrials have been around since the dawn of the stock market, you can count on fairly solid businesses. In many cases, this is also means the company has a stellar dividend history. For example, there are 7 companies making the Dividend King List. The Dividend Kings are companies showing over 50 years with consecutive dividend increases. Here's the industrials kings list:
ABM Industries (ABM)
Dover Corporation (DOV)
Emerson Electric (EMR)
3M Company (MMM)
Nordson (NDSN)
Parker Hannifin (PH)
Stanley Black & Decker (SWK)
The biggest problem with industrials is probably the fact that they often become too big to be managed effectively. We are all aware of the multiple problems at General Electric (GE) which has had to cut its dividend twice between 2008 and 2018. In other words; the longevity of a company is not necessarily an accurate predictor of its likelihood of paying or increasing its dividend.
Industrials Dividend Stocks List
Below you will find the Industrials Dividend Stock list. We've published a short version as a table on this page, but you can download the full version including several metrics right here:
[table id=46 /]
This table is updated once a year, but we have an updated stocks list with additional metrics for you to download:
Here are the metrics I've used to build the Industrials list:
Dividend yield between 1.5% and 10% (I want stocks that pay dividend)
5-year revenue growth positive (I want growing businesses in my portfolio)
5-year normalized diluted EPS growth positive (growing earnings leads to more dividend growth)
5-year dividend growth positive (I want management committed to make me richer)
3-year dividend growth positive (management must not sleep on the job)
Payout ratio under 100% (I want those dividends to keep coming)
The Industrials Dividend Stocks list is being updated on a quarterly basis.
Industrials Sector Special Characteristics
As mentioned in our introduction, industrials are likely to follow cycles. Railroads, construction equipment companies, truck manufacturing, and trucking transportation will be quite busy during economic booms, but will suffer during recessions. Aerospace & Defense will do well as long as the government increases their military defense budget. Depending on the timing of each industry, this generates windows of opportunity where selective stocks are bargains. On the other side, this will also put your patience to task if you are already a shareholder.
The other aspect to track for industrials is definitely their size as a business and their debt level. Companies that have existed for long periods tend to grow through different segments and divisions. At one point, you look at the company and it becomes very difficult to fully understand where their true expertise resides. This is what happened with GE.
Industrials stocks are usually a good fit for pretty much all dividend growth investors. Depending on the sub-sector and the timing of your purchase, volatility and yield may vary. In the end, this is the perfect place to start looking for undervalued gems.
Industrials Dividend Stocks of Interest
At Dividend Stocks Rock, we have included some Industrials stocks in our dividend portfolios. Here's a short list of companies that are interesting buys according to our current research:
3M Co (MMM)
3M produces products like Scotch tape, projector systems, Post-it notes, Tartan track, and Thinsulate. This is a true conglomerate that produces products for many industries and for both personal and business uses. Their manufacturing, research, and sales offices are all over the world.
CAE (CAE.TO)
CAE is a world leader in simulation and training for the civil aviation and defense markets. The company has a global presence employing 8,000 people at 100+ sites in 30 countries. CAE is a leader in three business segments: Civil Aviation Training Solutions (58%) (commercial/business aviation, training equipment), Defense and Security (38%) (virtual and live training), Healthcare (4%) (patient simulation and training solutions).
Canadian National Railway (CNI or CNR.TO)
Founded in 1918, Canadian National Railway is the largest railway in Canada, and has significant operations in the United States as well. The total mileage of track exceeds 20,000. It trades on both Canadian and US stock exchanges. CN is divided into 7 groups: Petroleum & Chemicals, Metals & Minerals, Forest Products, Coal, Grain & Fertilizers, Intermodal, and Automotive.
Illinois Tool Works (ITW)
Founded more than 100 years ago, Illinois Tool Works manufactures a diversified range of specialized industrial equipment, consumables, and related service businesses. Its segments are Automotive OEM; Food Equipment; Test & Measurement and Electronics; Welding; Polymers & Fluids; Construction Products; and Specialty Products. The company operates in more than 57 countries and employs over 50,000 people.
On top of providing sector lists, we also provide stock cards for each company we follow. Here's an example (click on the image to enlarge).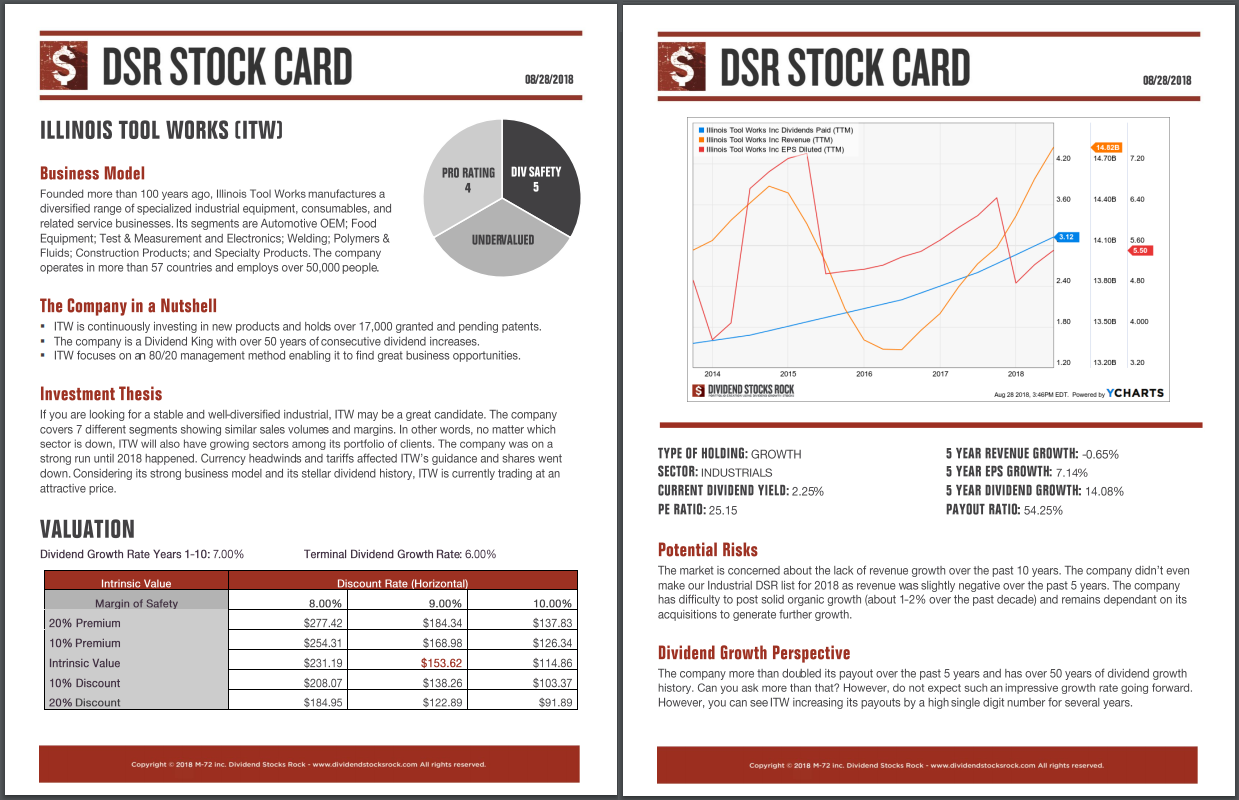 *Stock cards are updated twice a year, this is an example that is not being updated
Other DSR Dividend Stocks Lists
If you liked the Industrials dividend stocks list, but you are looking for additional sectors, you can register for our free newsletter and receive exclusive access to all our sector dividend stock lists. For each industry, we cover both U.S. and Canadian dividend stocks.