Consumer Defensive Dividend Stocks in a Nutshell
Consumer Defensive companies are the foundation of a dividend growth portfolio
They count on steady cash flow generation, regardless of where the economy is going.
If you are looking for less volatile investments, this is the article you are looking for.
Here's the Consumer Defensive dividend stocks list.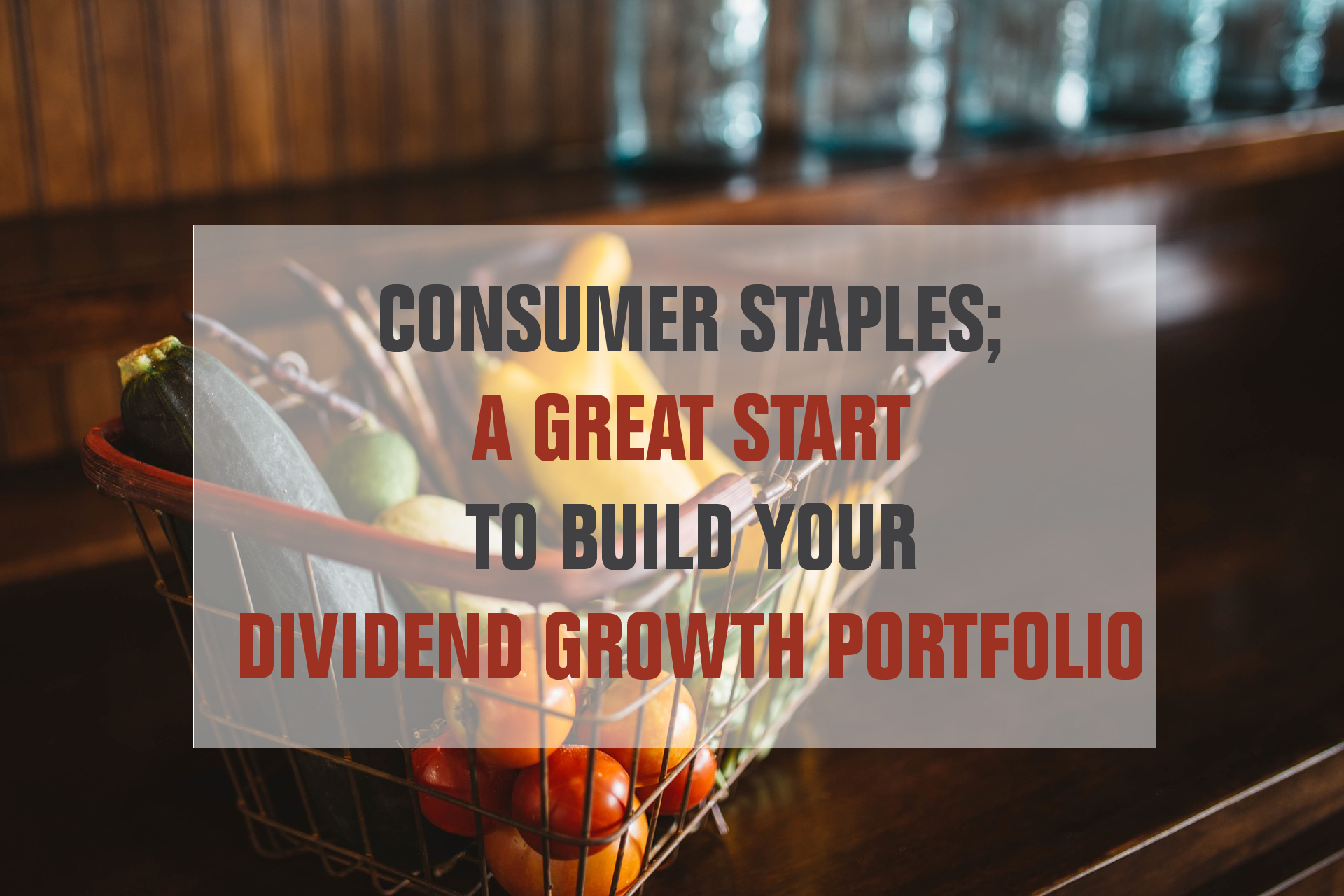 When we discuss consumer staples, we often draw it as all the products you can find in your house. Those are products you must buy no matter what happens in your life. Those companies have built stellar brand portfolios supporting repeatable purchases. Repeatable purchases lead to constant and predictable cash flows. Therefore, food, beverages and household products could be a great foundation to build a dividend growth portfolio. If you are concerned about the current state of the economy, add some consumer defensive stocks to your portfolio.
This article explores this sector, defines how it can boost yield in your portfolio, and it provides you with a complete dividend stock list including comprehensive metrics.
The Consumer Defensive Sector Explained
Most companies found in this sector could be described as somewhat boring. There are rarely technology breakthroughs changing the game. You will not likely find double-digit organic revenue growth in this sector. In fact, we are talking about companies that will grow in direct proportion  with the population. The more people there are on earth, the more they need to eat, drink and… clean their house, right?
This sector is divided into a short list of sub-industries:
Food & Staples Retailing (distribution and grocery stores)
Food, Beverage & Tobacco (brewers, packaged food and tobacco)
Household & Personal Products (all products found in the kitchen and bathroom)
Lack of significant growth is often the problem you will find within this sector. While everybody needs to eat, there is a limit to how much you can add in your kitchen. The same rationale applies for cleaning or personal products. The products of these industries grow in direct proportion to population growth
You can picture consumer staples as the wall that will protect your core portfolio against market storms.
What Consumer Defensive Stocks Can Do For Dividend Investors?
The interesting part about this sector is the fact that companies can count on a core business that will likely behave the same way regardless of whether the economy is booming or not. This leads to a great basket of dividend payers. In fact, there are several consumer staples companies that are long time dividend growers. For example, here's the list of dividend aristocrats (25+ years with consecutive dividend increases) that are part of this sector:
Archer-Daniels-Midland (ADM)
Brown-Forman (BF-B)
Colgate-Palmolive (CL)
Clorox (CLX)
Coca-Cola (KO)
Hormel Foods (HRL)
Kimberly-Clark (KMB)
McCormick & Company (MKC)
PepsiCo (PEP)
Procter & Gamble (PG)
Sysco Corporation (SYY)
Wal-Mart (WMT)
Walgreens Boots Alliance (WBA)
From the names you see on this list, you can expect a reasonable yield (around 3%) with a steady dividend growth policy. Those companies are strong enough to face recessions without significantly affecting their dividend as most of their customers will continue to buy their products during good times or bad.
Dividend investors will find these companies to be reliable and worry free for the most part. These companies will come bearing gifts of dividend increases each year. These companies are your "safe haven" for dividend income.
Consumer Defensive Dividend Stocks List
Below you will find the Consumer Defensive Dividend Stock list. We've published a short version as a table on this page, but you can download the full version including several metrics right here:
[table id=52 /]
This table is updated once a year, but we have an updated stocks list with additional metrics for you to download:
Here are the metrics I've used to build the Consumer Defensive list:
Dividend yield between 1.5% and 10% (I want stocks that pay dividends)
5-year revenue growth positive (I want growing businesses in my portfolio)
5-year normalized diluted EPS growth positive (growing earnings leads to more dividend growth)
5-year dividend growth positive (I want management committed to make me richer via increased dividend payments)
3-year dividend growth positive (management must not sleep on the job)
Payout ratio under 100% (I want those dividends to keep coming)
The Consumer Defensive Dividend Stocks list you download is being updated on a quarterly basis.
Consumer Defensive Sector Special Characteristics
The most interesting characteristic of this sector is probably its stability. For a dividend investor, this is an important point. But don't take for granted that all consumer defensive companies will do well no matter what. These companies' stocks will likely suffer during a market crash as investors sell everything, including great companies. The difference will be found in their financial statements where revenues will not be as affected as other sectors, and their earnings will continue to support their dividend payments.
The lack of growth vectors can also be found in this sector. While some companies have a business model that will grow along with the world demographics (Colgate-Palmolive (CL) for example), some others will have a hard time finding new customers. A company like Altria (MO) will not likely increase the number of smokers down the road. Raising prices will help them manage short-term headwinds, but eventually management will have to find other growth vectors or confront declining revenues.
Try to find companies that don't rely solely on population growth and acquisitions to increase their profit.
Consumer Defensive Dividend Stocks of Interest
At Dividend Stocks Rock, we have included some Consumer Defensive stocks in our dividend portfolios. Here's a short list of companies that are interesting buys according to our latest research:
Alimentation Couche-Tard (ATD.A.TO)
Alimentation Couche-Tard is the largest convenience store operator in Canada and 2nd largest in North America. While constantly expanding its presence in the US and Europe, it successfully built a convenience store including daily use products. Many stores are also combined with fuel service stations. ATD operates 12,081 stores (7,863 in North America, 2,708 in Europe and 1,510 internationally). Instead of simply selling chips and beers, ATD focuses on a superior offer including fresh food, private labels and strong product concept offerings.
Metro (MRU.TO)
Metro operates over 600 grocery stores under banners such as Metro, Super C and Food Basics. It is mainly active in Quebec and Ontario. Metro also has a pharmaceutical sector operating 250 drugstores under banners such as Brunet, Clini Plus and Pharmacy & Drugs basics. Finally, Metro operates a pharmaceutical distributor named McMahon, which has about 200 affiliated pharmacists. Metro completed the acquisition of Jean Coutu on May 2018.
Coca-Cola (KO)
Coca-Cola's biggest strength is its brand power. Strong from its carbohydrate drinks' cash flow generation, KO is completing acquisitions to diversify its offerings. The KO non-carbohydrate drinks division represented 26% of sales in 2015 while it was 20% in 2007. KO has successfully reduced its operating costs, and should use this additional cash flow to support future growth. Finally, KO's distribution network is powerful enough to support any new product launch.
Hormel Foods (HRL)
HRL is engaged in the production, marketing and sale of meat and food products throughout the United States and internationally. Instead of going mainstream with popular products, Hormel Foods has developed a strong expertise in producing foods in very specific niche markets. Their goal is to dominate each market, and this makes it very difficult for other competitors to steal their market share.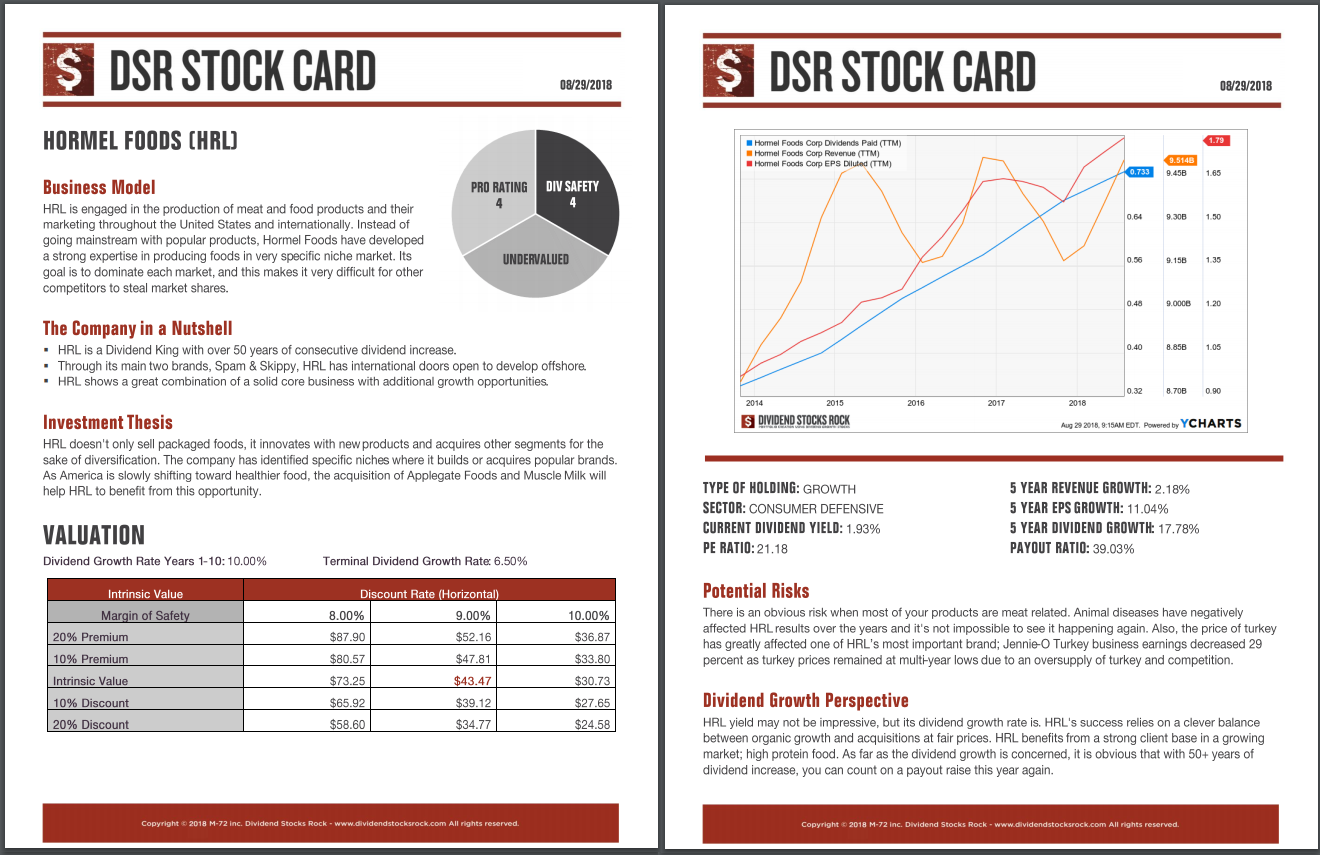 *Stock cards are updated twice a year, this is an example that is not being updated
Other DSR Dividend Stocks Lists
If you liked the Consumer Defensive dividend stocks list, but you are looking for additional sectors, you can register for our free newsletter, and receive exclusive access to all our sector dividend stock lists. For each industry, we cover both U.S. and Canadian dividend stocks.