Communication Services Dividend Stocks in a Nutshell
Communication Services is a relatively small sector compared to others.
However, it includes some very solid dividend payers
Canadian telecoms remain your best bet if you're a dividend growth investor.
Here's the Communication Services dividend stocks list.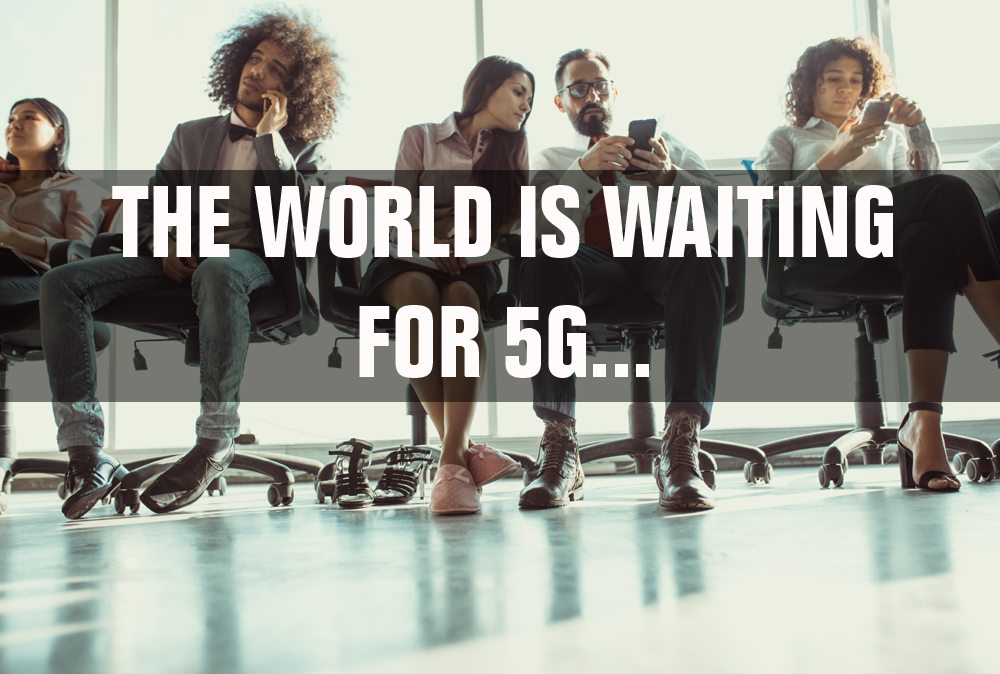 When you think of the communications services sector, you automatically think of AT&T (T) and Verizon (VZ). Both companies are praised by income seeking investors as they pay a high yield, and have shown consistent dividend growth. While their dividend increases are modest, both companies can match inflation and protect their payout from being eroded.
There are some exciting changes coming in the upcoming years with the implementation of the 5th generation wireless systems, most often called 5G. 5G technologies will not just speed-up your connection when you binge Netflix during your commute. We are talking about a technology that will enable driverless cars, smart-city traffic controls, health-tracking devices, and the rise of artificial intelligence (AI). In other words, communication services will enable a world of opportunities in the next decade.
This article explores this sector, defines how it can boost yield in your portfolio, and provides you with a complete dividend stock list including comprehensive metrics.
The Communication Services Sector Explained
In our opinion, there are two very interesting sectors for dividend growth investors in Canada: banks and telecoms. Both are evolving in a protected oligopoly, giving them the opportunity to build a solid business model, enjoy pricing power, and give them the ability to distribute large dividend payments.
There are currently four players in the Canadian wireless industry, with three controlling 90% of the market. BCE (BCE.TO/BCE), Telus (T.TO/TU) and Rogers Communications (RCI.B.TO/RCI) are major players in the Canadian wireless industry while Shaw Communications (SJR.B.TO/SJR) is playing catch-up in this sector. The beauty of all of them is they pay a 4%+ yield, show interesting growth perspectives, and are traded on both the Canadian (TSE) and U.S. (NYSE) stock exchanges. Therefore, it's important to not confuse Telus (T on the TSE) and AT&T (T on the NYSE).
What Communication Services Stocks Can Do For Dividend Investors?
Using a cellphone (or should we say smartphone) has become as common as eating or driving. Our world revolves around communications, and 5G technology will bring a whole new world of possibilities to our finger tips.
For dividend investors, this means telecoms are here to stay and to thrive. Most telecoms pay a generous dividend as the bulk of their income is coming from monthly subscriptions. This is how AT&T, Verizon, and the 4 Canadian telecoms all pay 4%+ yields. Even better, most companies in this group are able to increase their payout each year.
Since telecoms are not a secret for investors, there is rarely a bargain to initiate a position. On the other hand, you should have very little volatility in your telecom stocks. Dividend investors can expect generous yields with consistent dividend growth. This is a great place to start building an income portfolio.
Communication Services Dividend Stocks List
Below you will find the Communication Services Dividend Stock list. We've published a short version as a table on this page, but you can download the full version including several metrics right here:
[table id=50 /]
This table is updated once a year, but we have an updated stocks list with additional metrics for you to download:
Here are the metrics I've used to build the Communication Services list:
Dividend yield between 1.5% and 10% (I want stocks that pay dividend)
5-year revenue growth positive (I want growing businesses in my portfolio)
5-year normalized diluted EPS growth positive (growing earnings leads to more dividend growth)
5-year dividend growth positive (I want management committed to make me richer)
3-year dividend growth positive (management must not sleep on the job)
Payout ratio under 100% (I want those dividends to keep coming)
The Communication Services Dividend Stocks list is being updated on a quarterly basis.
Communication Services Sector Special Characteristics
One of the reasons why this sector is relatively small in term of options for investors is because each company could qualify as a giant. It requires massive capital to develop and maintain communication networks throughout large countries such as Canada and the U.S. Since network availability and stability are key component for customers when it's time to pick a cellphone provider, this industry is sheltered from new (and often smaller) competitors.
While this creates a great barrier to entry, capital intensive industries also come with an important flaw; significant portions of their cash flow is taken away from dividend growth to be reinvested in the business. This is why companies like AT&T and Verizon have struggled to increase their dividend payouts at a rate exceeding the inflation rate over the past few years.  They require money to develop their 5G networks, and they both had the creativity to make major acquisitions and invest in growth through various other vectors.
Communication Services Dividend Stocks of Interest
At Dividend Stocks Rock, we have included some Communication Services stocks in our dividend portfolios. Here's a short list of companies that are interesting buys according to our research:
AT&T (T) (we do not hold shares of AT&T at DSR)
AT&T is the world's largest communication company by revenue. It derives most of its profits from wireless services. T separates its business into 4 segments: Business Solutions, Entertainment Group, Consumer Mobility and International. AT&T's strong relationship with it's customers provides it with very consistent cash flows. The Entertainment Group is expected to continue growing. After the launch of Direct TV Now, T is completing the acquisition of Time Warner. The goal is to create additional synergy between content (Time Warner) and distribution services (Direct TV).
BCE (BCE or BCE.TO)
BCE is the largest Canadian telecom by market cap.  It is about twice the size of Telus. It shows the most balanced business model among this small group. BCE has shown a very solid dividend profile for several years, and my analysis suggests it will continue to rise in the future. All BCE services are based on some sort of monthly subscription generating a consistent base of cash flow.
Telus (TU or T.TO)
Telus offers residential phone, internet, TV and mobile phone services. In 2008, Telus bought Emergis, a leading electronic healthcare solutions provider to create Telus health Solutions. Telus is now the 3rd largest telecom provider in Canada. Interestingly enough, T gets 49% of its revenue from Wireline and 51% from Wireless.
Verizon (VZ)
Verizon Communications Inc. is a provider of communications, information and entertainment products and services to consumers, businesses and governmental agencies. Its two segments are Wireless and Wireline. Verizon has a very steady history of dividend increases over more than a decade.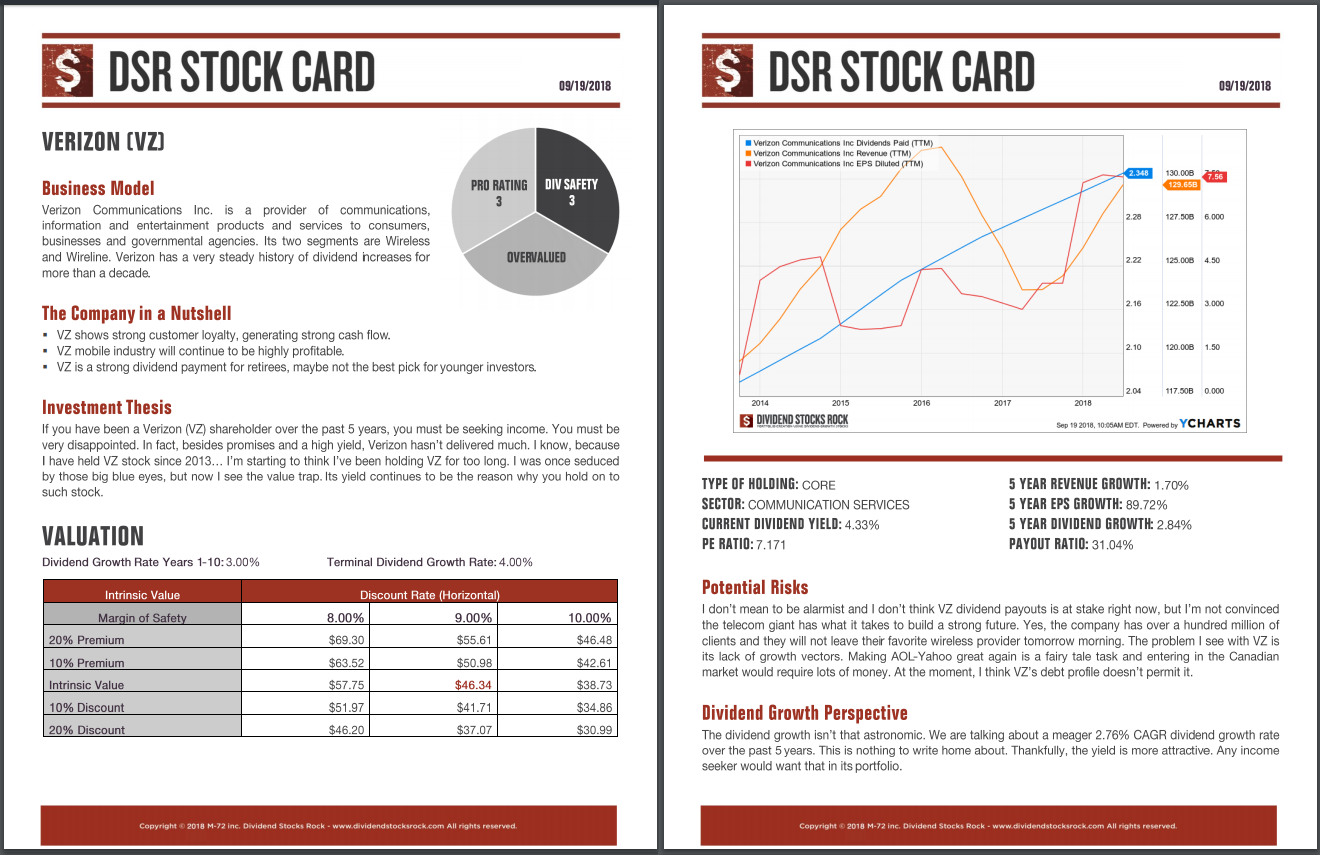 *Stock cards are updated twice a year, this is an example that is not being updated
Other DSR Dividend Stocks Lists
If you liked the Communication Services dividend stocks list, but you are looking for additional sectors, you can register to our free newsletter and receive exclusive access to all our sector dividend stock lists. For each industry, we cover both U.S. and Canadian dividend stocks.