Let's just say September wasn't the most profitable month for the market this year. There are several reasons why investors are nervous these days. While some investors are tempted to cash out their profit from the past three years and want to avoid the next crash by all means, there are other investors piling up their portfolio with more shares of companies on sale at a discount. We took a look at stocks that plunged over 6% in September. Should they be added to your portfolio or left for dead? We selected 4 stocks that should be added. The 4 stocks were picked according to the 7 investing principles I follow to succeed.
Caterpillar -10.05% (CAT) DSR Score 48.5
Caterpillar Inc is a manufacturer of construction and mining equipment, diesel & natural gas engines, industrial gas turbines & diesel-electric locomotives. Its segments include Resource Industries, Construction Industries and Power Systems.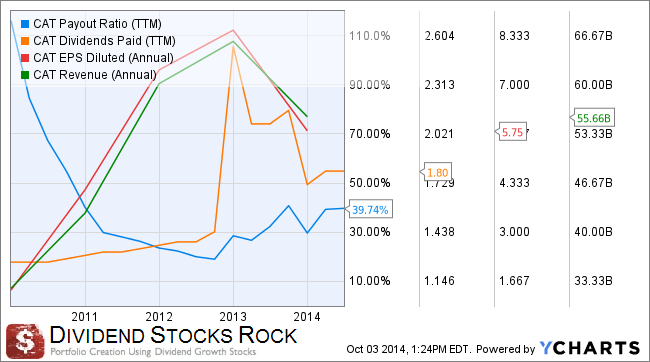 While the US housing construction industry finally came back from the dead, the mining industry is falling into a deep sleep due to the lack of demand. Emerging markets are not so emerging anymore and their appetite for resources has slowed down. But this is short term news. The truth is that CAT is highly diversified among the mining, construction and energy & transportation industries. Global energy demand growth will continue to sustain the E&T division while construction won't slow in the States anytime soon. Since sales and profit has declined over the past 12 months, CAT has tightened its control over inventory and cost. The company is now leaner and stronger. The demand for resources will reappear at one point and the mining industry will benefit from it. CAT is the leader in mining equipment, it will get its share of the cake at that point.
Helmerich & Payne -9.99% (HP) DSR Score 88.5
Helmerich & Payne, Inc. is engaged in contract drilling of oil & gas wells for others & in the ownership, development & operation of commercial real estates. Its business is composed of three reporting segments: U.S. Land, Offshore & International Land.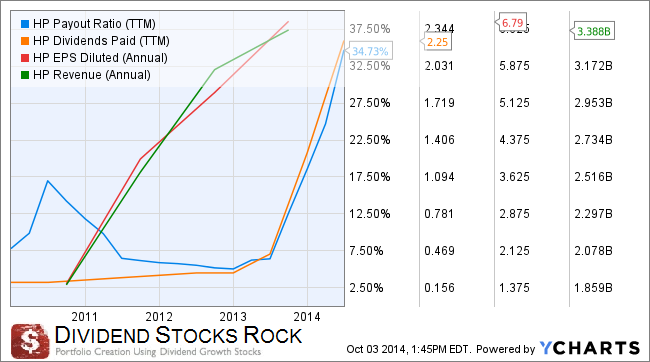 We have covered HP from right to left and even the center in 2014 at DSR. Still, the company is not done entertaining us. After a strong start at the beginning of the year, it seems the whole oil industry is losing steam and HP is part of the losing stocks over the last month. Saudi Arabia is adding more pressure on oil by pricing aggressively to retain customers. As oil prices drop, related industries such as drilling wells follow. The stock shows strong technical indicators but I'm not the kind of guy who will trust trends and line. The company has a strong future and the P/E ratio is now more than affordable (14.22). For those who thought HP wasn't paying enough in terms of yield, it is now paying a 3% dividend yield. The company hasn't slowed its growth so far and continues to close contracts. This is a momentary pause for a stock that has been on a roll for a long time. Oil exploration won't disappear in 2015 and HP will be there to benefit from new projects.
Finning International -9.08% (FTT) DSR Score 74
Finning International Inc is the Caterpillar equipment dealer, which sells, rents and provides parts and service for equipment and engines to customers in various industries.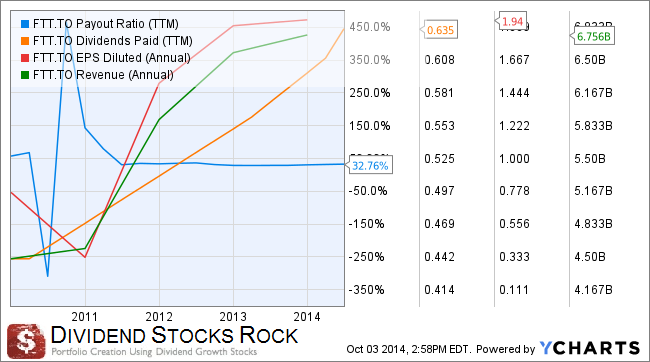 FTT is directly linked to Caterpillar (CAT) as it is its dealer in Canada. While analysts downgraded the stock to "hold" due to the current slow environment for mining exploration, FTT is showing strong fundamentals. The dividend paid has increase significantly and is perfectly in line with the EPS as the payout ratio hasn't moved since mid-2011. The stock recently dropped but it is still +12% this year. This could be a good time to add a solid company with growing cash flow coming from its operations. I'll keep an eye on FTT.
Black Diamond Group -19.89% (BDI) DSR Score 79
Black Diamond Group Ltd is a provider of temporary and permanent modular building and energy services products. The Company has three operating divisions, Black Diamond Camps and Logistics, Black Diamond Energy Services and BOXX Modular.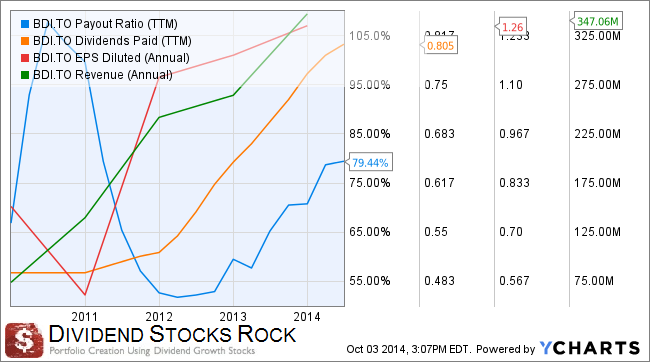 Saying it was a bad month for BDI is an understatement. We previously mentioned it wasn't a good time for any industry related to oil. Black Diamond's main source of profits is definitely its modular buildings provided to the oil sand explorers in northern Alberta. One of its peers, CIVEO Corp recently issued a profit warning for Q4 2014 and 2015. This pushed BDI down by a further 8% on the very same day. The company is definitely in the middle of turmoil around oil and especially oil sands. If the price of a barrel drops too much, future oil sand plans are at risk and modular buildings won't be needed at that point. However, the stock now pays 4% in dividend and trades under a P/E of 20. Keep in mind the payout ratio is a bit high right now and considering a possible flat environment for 2015. As you know, the oil industry is quite volatile and the stock could also be bouncing back very fast in the event of better outlook. Still, it's not the safest play right now.
The 7 DSR Investing Principles
As mentioned at the beginning of this article, those companies have been carefully handpicked according to the 7 DSR Investing Principles:
Principle #1: High Dividend Yield Doesn't Equal High Returns

Principle #2: If There is One Metric; It's Called Dividend Growth

Principle #3: A Dividend Payment Today is Good, A Dividend Guaranteed Forever is Better

Principle #4: The Foundation of Dividend Growth Stocks Lies in its Business Model

Principle #5: Buy When You Have Money in Hand

Principle #6: If You Know Why You Bought, You Will Know Why You Sell

Principle #7: Think Core, Think Growth
Don't miss this pillar article, click here to read more about the 7 principles.