OOPS!
You have reached a page that is reserved for members only. If you are already a member, please login with your user ID and password in the form below.
If you want to become a member and stop struggling with your buy & sell decisions, please continue here.
DSR Subscription Includes
Portfolio Models: Rethink your portfolio using 1 of our 9 US or CAD models. Each one comes with its own booklet and is updated quarterly. Stop overthinking by having a strong sector allocation.
Stock Cards: Buy the right assets and pick among the best stocks only with our 425+ stock reports. Focus on quality over quantity to build your portfolio with conviction.
Stock Cards on Demand: Ask us to review any stocks in your portfolio! Get instant access to our investment thesis, potential risks, dividend growth perspectives, valuation and key metrics. It's like having your own personal stock research assistant.
Newsletter: Stay the course and grow in confidence with our weekly newsletter. We cover everything you need to know and provide you with clever intel including buys and sells!
Exclusive Webinars and Videos: Focus on what matters and ask all your questions! Benefit from the power of a 1,500 investors community.
Risk-free Investment: Try DSR for 60 days and get your money back if it's not working for you.
Best Deal: Your price will never increase once you become a member.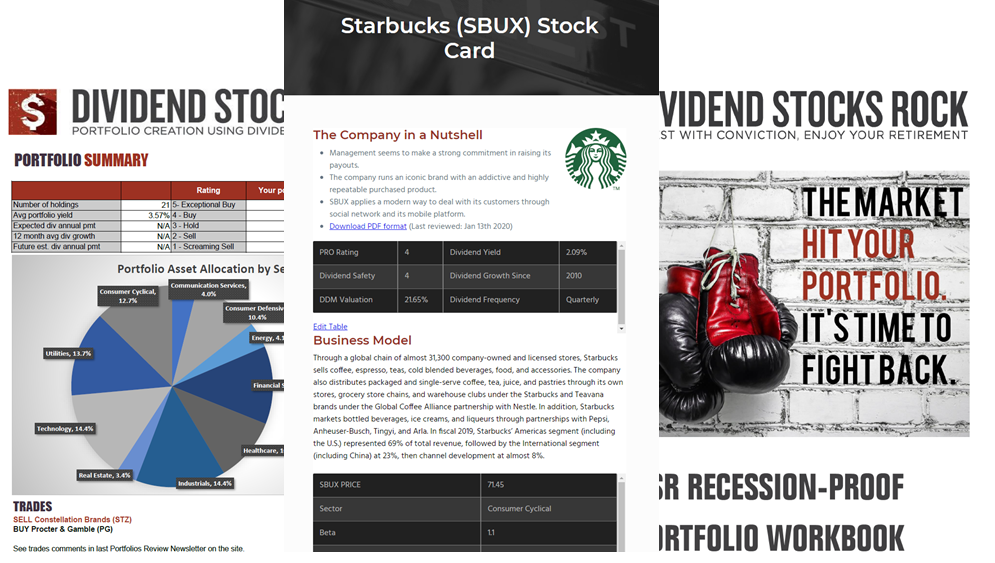 The Market Shouldn't Dictate How You Invest
Market fluctuations create confusion and leave you with the impression you will lose all your savings. It doesn't have to be this way. Dividend Stocks Rock gives you the actionable tools you need to invest with confidence and retire stress-free. Everybody deserves the retirement of their dreams. Make your money work for you.
Not Ready Yet? Download our Portfolio Workbook!