Really, the stock market is a fascinating place. When you come to this playground, you can meet lots of people saying "white," thinking "gray," but doing "black". The noise is really strong right now and I've received many emails about company XYZ or ABC being down for no reason. The answer is quite obvious: there is always clown trading! The clown doesn't know what he is doing. And yet, most people will follow him. For this reason, the S&P 500 lost 7% in 5 days and the TSX did barely better at -5%: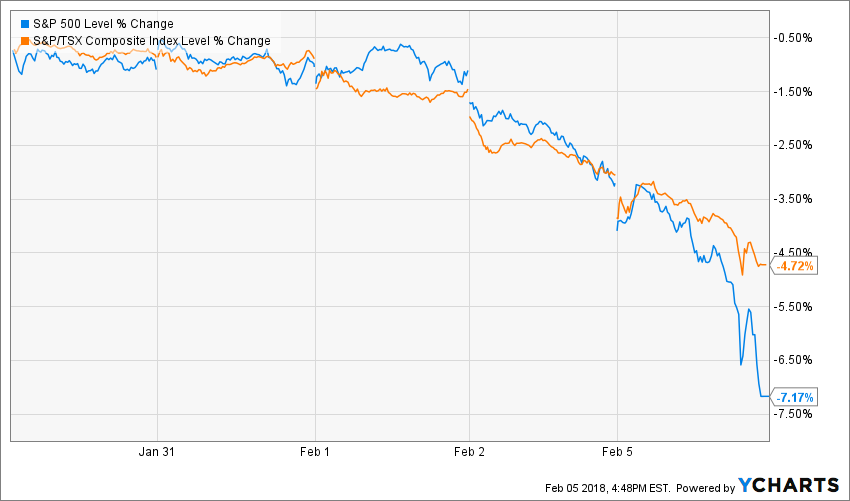 source: Ycharts
I'm writing this market commentary after the market closed on Monday February 5th. As things shift rapidly these days, we could probably have a glass of wine on Friday and celebrate the market bounce back. I'll make a bold statement: it doesn't matter where the market ends-up tonight. As far as I am concerned, it doesn't even matter where the market ends on December 31st 2018. You know why? Because I have an investment plan. My investment plan has dividend growth stocks as its first stepping stone. And you should have an investment plan too.
Now "here's your chance"
A lot of investors have been desperately waiting for the day the market would tumble. I keep reading those comments everywhere on planet market:
"The market is high, I'm waiting"
"I'll pick some shares of MMM after it crashes"
"Valuation is crazy, it will drop by 30%, just wait a little"
I will agree with you. I'd rather buy shares of MMM at $150 than at $231. I'd rather enjoy Royal Bank's dividend when I bought shares at $68 than $101. This rationale should never apply when you invest. As much as GE shares may never go back to $50 when they were trading at their peak back in 2000, chances to pick shares of MMM at $150 are thin. It's not because shares used to trade at $X that it will ever get back to this level.
The problem with waiting is that you never know when the wait is over. You sit, you wait, you watch. But you can't decide. Is the market being down by 7% enough? Or are you looking for a 15% or 25% drop? When will this happen?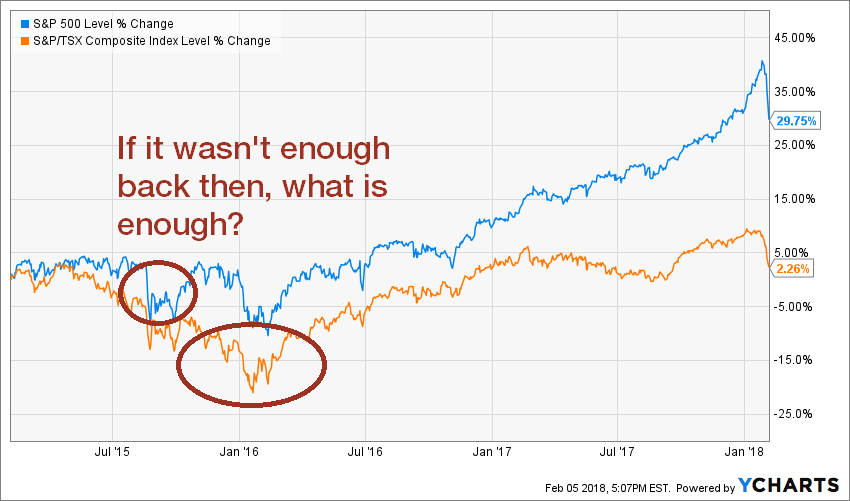 Source: Ycharts
The chart below shows the US & Canadian market over the past 3 years. For U.S. investors, you would need a major drop before it reaches the 2015 level. For Canadian investors, the market is trading pretty much at the same level. What changed during that time? You missed 3 years of juicy dividend payments. Let's pretend the market keeps dropping for the three months. Have you considered how deep markets have to dive to reach the 2012 level?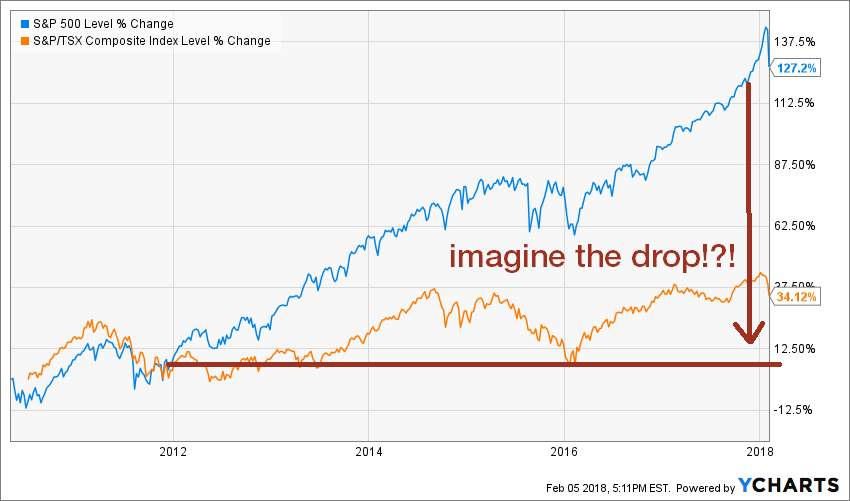 Source: Ycharts
I'm not saying it will not happen. I'm not saying it's impossible. However, I'd say it is very unlikely. It is unlikely because the unemployment rate is incredibly low. It is unlikely because companies are showing growing revenues and earnings. It is unlikely because people are spending, the credit market is healthy, and there is no sign of recession in most industrial countries. While the economy could shift within a few months, this should not influence your investment plan.
A few good picks
Upon this recent drop, I've pulled out a search and looked at many of my latest favorite picks. Interestingly enough, most of them outperformed the market. Therefore, finding dropping rocks among my picks was harder than I thought. Still, there are a few companies that have been hit hard by the recent market drop. Here are a few good companies that are trading at rebate right now:
Enbridge (ENB.TO or ENB)
Fortis (FTS.TO or FTS)
Magna International (MG.TO or MGA)
Hormel Foods (HRL)
Clorox (CLX)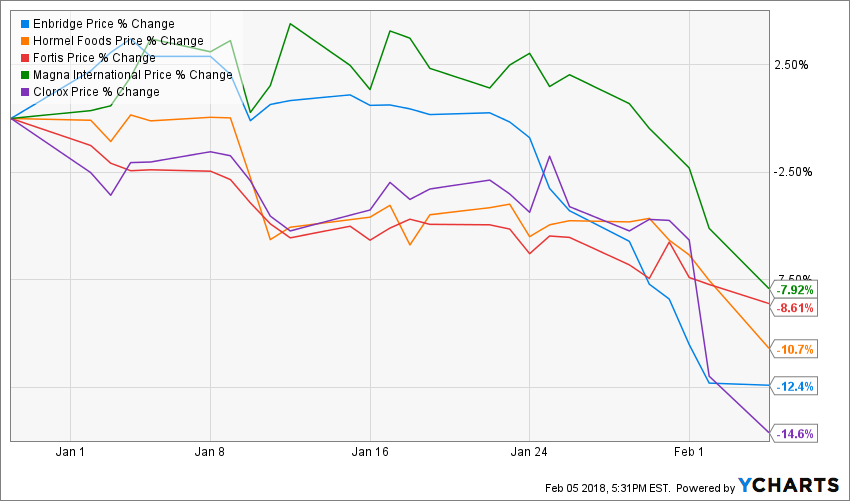 Source: Ycharts
I hope you will not fall into panic mode and you will remain strong. And don't forget: waiting will just put you into a never-ending paralysis by analysis mode.
Cheers,
Mike