As a third step in your investing process, you have access to a comprehensive and efficient stock report library. Each company we review throughout the year is being documented here with a complete analysis for you to read.
In a condense pdf format, you can review a company going from their business model, dividend perspectives, risk potentials and finish with a fair valuation. In a glimpse of an eye, you can have a clear idea if this company should be in your portfolio.
As a member of DSR, you will have the privilege of requesting additional stock cards for those who haven't been reviewed by our team yet. This "on demand" service is complementary in your subscription. This tool has been especially designed to optimize your precious time toward decision making.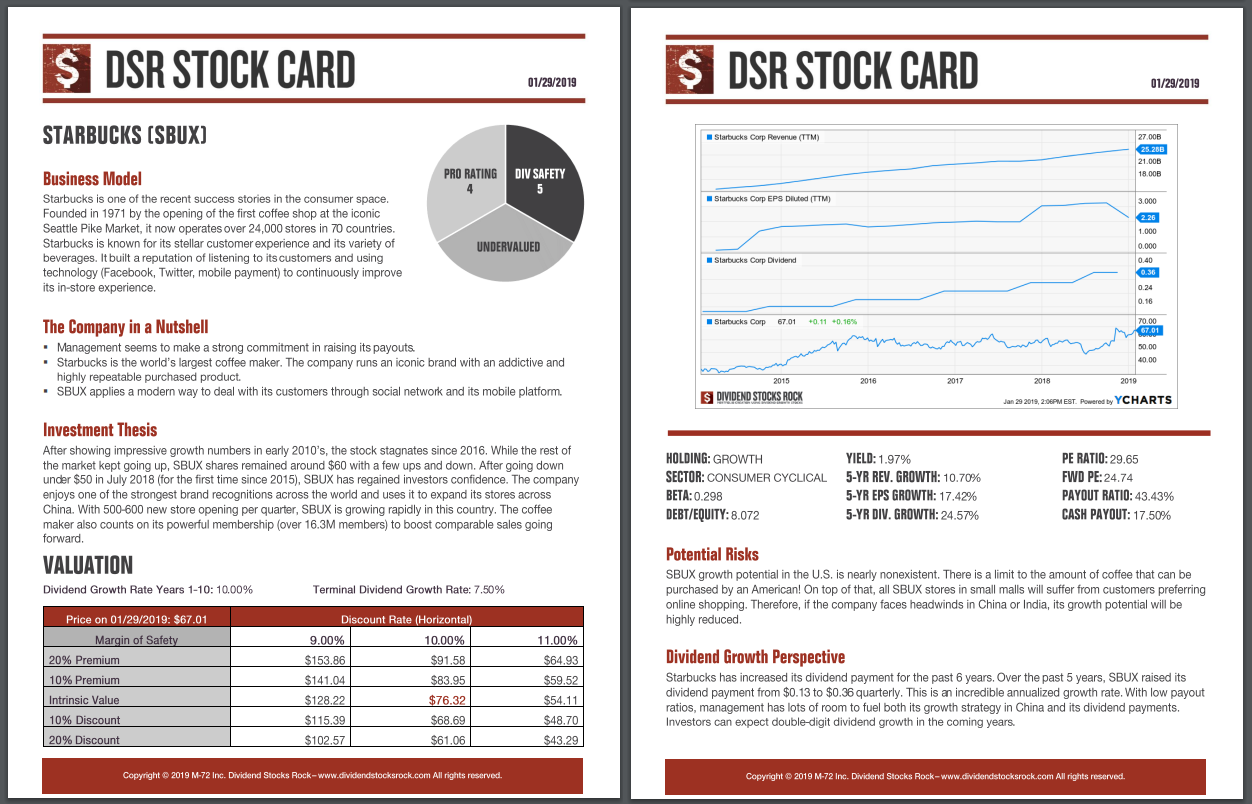 The stock card above is for example purpose only and is not being updated
We Are Your Personal Stock Research Assistant
Our stock cards give you all the information you need to rapidly take a decision. You will get instant access to our investment thesis, potential risks detailed, dividend growth perspectives along with our valuation.  Plus, if you can't find the company you are looking for; you simply have to ask us to create the report for you! It's like having your own personal stock research assistant.
PREFERRED OPTION
DSR PRO
$297/year
9 DSR Portfolios w/ Trade Alerts
Dividend Safety Score
425+ Stock Cards with Ratings
DSR Weekly Newsletter
Stock Report on Demand
Customized Quarterly Report
Your Holdings Ranked
Sector Allocation Analysis
Exclusive buy & sell list
DSR Yearly
$177/year
9 DSR Portfolios w/ Trade Alerts
Dividend Safety Score
425+ Stock Cards with Ratings
DSR Weekly Newsletter
Stock Report on Demand
23% Rebate on the monthly subscription
DSR Monthly
$19/month
9 DSR Portfolios w/ Trade Alerts
Dividend Safety Score
425+ Stock Cards with Ratings
DSR Weekly Newsletter